Company Announcements
Justia releases BlawgSearch.com and Blawgs.fm, a search engine and directory of legal blogs and podcasts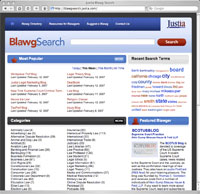 PALO ALTO, Calif.--(BUSINESS WIRE)--Justia, a legal media and technology company focused on making legal information, resources and services easy to find on the Internet, today announced the release of BlawgSearch.com, a search engine and directory of legal blogs, and Blawgs.fm, a search engine and directory of legal podcasts.
BlawgSearch.com includes a directory of over 1,000 editorially selected legal blogs, which are categorized by subject matter and locality. The BlawgSearch.com search engine enables sorting of results by relevance and posting date, and allows subscriptions to RSS feeds of the searches. BlawgSearch.com also includes daily, weekly, monthly and all time legal blog popularity rankings.
Blawgs.fm searches legal blog posts with multimedia files, and also includes a directory of legal podcasts and videocasts. Icons indicate the type of multimedia file and there is a flash player for audio files so visitors can quickly listen to particular posts within the search results.
"We are excited about launching these new resources for legal researchers," said Justia CEO Tim Stanley. "We are always looking for innovative ways to make legal information freely available and easy to find online." Legal bloggers and podcasters can suggest new blogs for inclusion in BlawgSearch.com by visiting the site and filling out the form.
About Justia
Justia (https://www.justia.com) is an online platform that provides the community with open access to the law, legal information, and lawyers. Justia includes free state and federal case law, codes, and regulations; legal articles and legal blog databases; as well as community resources. The company also provides internet marketing services for lawyers and law firms, and for educational, public interest, and other socially focused organizations.
Media Contact